India is a festival loving country, with a festival held every month. Every event is celebrated in a small village or city in India, and everyone enjoys it. Ganesh Chaturthi is the most well-known and largest of these celebrations in India. This festival is celebrated all over India, but Maharashtra is the most well-known. Vinayaka Chaviti is another name for Ganesh Chaturthi. On this day, people install clay Murtis of Lord Ganesha in their homes. People took murti near a river, sea, or lake on the festival's final day for immersion (called Visarjan).
Australia, New Zealand, Canada, the United States, Trinidad and Tobago, and Europe all observed Ganesh Chaturthi. According to the Gregorian calendar, this festival occurs every year from August 22 to September 20. Every year, around 1 lakh statues are immersed in the waters of Mumbai. The birth anniversary of Lord Shri Ganesh is celebrated as Ganesh Chaturthi.
HISTORY
In the period of Chhatrapati Shivaji Maharaj, Ganesh Chaturthi was first celebrated in public. Peshwa was a Shree Ganesh Ji follower in the 18th century,  and he was the one who started the public Ganesh Chaturthi celebrations in Pune. The festival celebration was lost after the British Raj began,  and people in Maharashtra began to celebrate in their own houses. In his newspaper in 1893, Indian liberation warrior Lokmanya Tilak praised Ganesh Chaturthi celebrations and pledged to make Ganesh Chaturthi a significant domestic festival every year.
CELEBRATION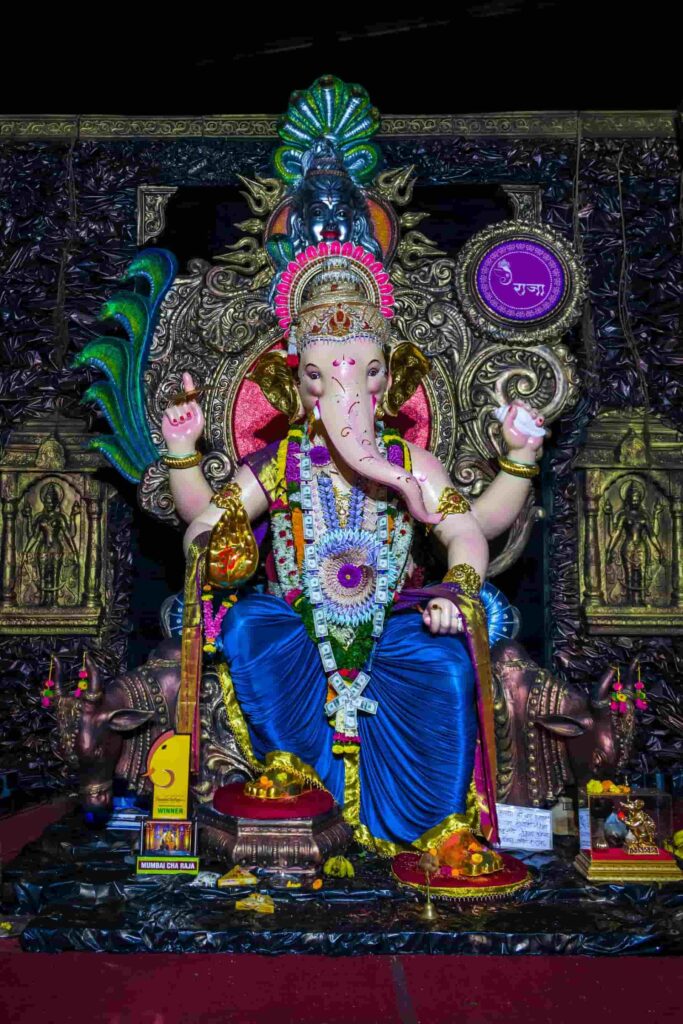 Ganesh Chaturthi is also known as Ganeshostav in Maharashtra. Ganesh Murtis are installed privately in the home by the family. Every morning and evening, flowers, Durva, and karanji are offered to the murti. Murti was taken to a body of water for immersion on the 10th day of the festival. People sing, dance, and play the drums while participating in immersion.
Vinayaka Chaturthi is the name given to Ganesh Chaturthi in Delhi. People create large Pandals in which everyone gathers to celebrate Vinayaka Chaturthi. You will hear Lord Ganesha's arti and worship in the temple. Before the event, the Delhi market was packed with people looking to purchase Lord Ganesh idols. Lord Ganesha Murtis can also be found in various places in Delhi. Similarly, the devotion and festival of Ganesh Chaturthi are celebrated in various ways throughout India, not just in Mumbai and Delhi.
FOODS
Modak is the most important sweet during this event. Modakam is a Telugu word, while Modaka is a Kannad word, and Modagam is a Tamil word. Modaks are made using rice or wheat flour, coconut, and dried fruits. Lord Ganesha adored eating, especially Modak and ladoos, according to books, hence this event would be incomplete without sweets. Bhog was also served with Kharvas, Srikhand, Kheer, and Rabri.
VISARJAN
Anant Chaturdashi is observed on the last day of Ganesh Chaturthi. Devotee sing, dance, and gather on this day to immersion Lord Ganesha's Murtis. Devoots Go to Lord Ganesha's Visarjan by a river or the sea.